Glaceon Snow (also called Glace) is one of the main characters on Leafy and Flare. She is one of only two female characters on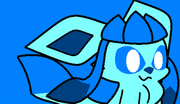 the show, the other being Espeon.
Appearance
Edit
She is a blue fox. She has light blue hair and blue eyes with white pupils.
Characters portrayed
Edit
Character portrayed
From

Episode

Roll
Megaman
Leafy and Flares epicness
Creme
Sonic
Eevee battle
Kai-Lan
Ni hao Kai-Lan
Everybody's Hat Parade,

Flare copys Umbre's hat, Flare's so mad and hits Umbre, Umbre makes a big Splash, 

Flare wanted to drive now, The story time, A big play but Flareon quits, Leafy's Rhyme time (parts),

Sandy
Spongebob
Flare's snowboarding attempt
Ad blocker interference detected!
Wikia is a free-to-use site that makes money from advertising. We have a modified experience for viewers using ad blockers

Wikia is not accessible if you've made further modifications. Remove the custom ad blocker rule(s) and the page will load as expected.